CRM stands for Customer Relationship Management. In the old days, traditional CRM was about the collection of consumer data on the company's prospects to better target them, so then you can move them down the buyer funnel in order to control and organize data buyer stages.
Traditional CRM controlling consumers through the buying funnel
From CRM to Social CRM
Social SCRM (SCRM) takes a different approach. On social media, the customer controls the conversation, so SCRM focuses on customer service. For example, consumers contacting the company via twitter or facebook with a question or a problem expecting to get a respond. For this reason, SCRM is a consumer-centric methodology.
Social CRM thought leader Paul Greenberg, Author: CRM at the Speed of Light: Essential Customer Strategies for the 21st Century defines Social CRM as:
"a philosophy and a business strategy, supported by a technology platform, business rules, processes and social characteristics, designed to engage the customer in a collaborative conversation in order to provide mutually beneficial value in a trusted and transparent business environment. It is the company's programmatic response to the customer's control of the conversation."
SCRM is a marriage of methodology and technology. The methodology covers traditional marketing of a consumer-centered approach and 1-on-1-conversations. With technology, it is about CRM software or cloud systems that include new social capabilities (SCRM), such as on-the-fly answers (see image 2 below) and text analytics.
For example, the use of social media monitoring based on a selected set of tracking keywords that can track user's behaviors, engagements, and interactions with your brand's social profiles. Other uses of SCRM is when someone mentions your product, brand, or there is chatting about your industry. You get the opportunity to join real-time conversations at the moment they are happening and offer solutions, become the industry expert, or promote your product.
So why is SCRM important?
90% of Americans expect brands to have a social media profile and 60% of Americans plan on interacting with brands on social media. So if your company has a social media profile, it is  not about filling it up with content and pushing that to people. Consumers are going to ask you questions and they expect them to be answered and not to go silent or ask them to email or call your customer support line.
From social media to social CRM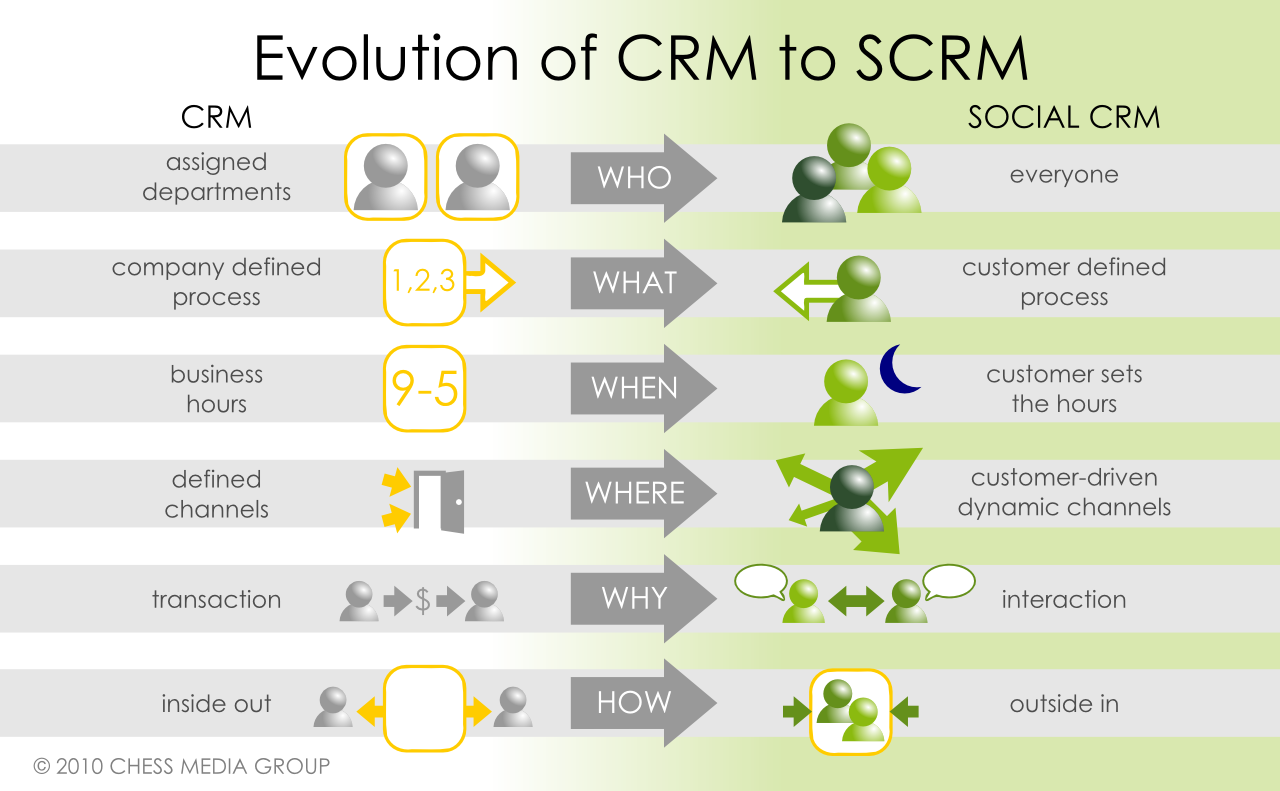 Even though social media plays a large role in promoting brand awareness, generating leads and driving revenue for your organization, it should first and foremost be considered a channel for providing online customer service. Data studies have shown that customers are increasingly reaching out to brands via social networks for customer support or consumer care. In fact, over the past year, there was a 100% increase in requests sent to brands expecting a response.
Social CRM or SCRM ( Customer Relationship Management), is the use of tools, social services techniques to enable organizations to engage with inbound customer request allowing this way to create meaningful points of engagement. IBM calls it "The new frontier in customer relationship management."
Traditional social media methods use social media almost as space for organizations to deliver brand awareness or advocacy, and through metrics of inbound marketing messages. Additionally, when the consumer reaches out to their brand via Facebook, twitter, or Instagram, the respond rates are low or non-existent. Then if the brand does eventually respond, the consumer is told to go to the brand's page or call. Missing out on the opportunity to engage consumers in real time, and the chance to collect very valuable data by sending consumers elsewhere.
The key benefit Social CRM offers is for organizations to interact with consumers in a omnichannel environment. This allows the online consumer to reach out to their favorite brands at the time they want with the channel of their preference, which brands can they track, me sure and improve. These metrics allow you to combine everything you already know about each consumer or prospect or lead with new information about their intentions, sentiments, and media activity. With SCRM you can track and manage conversations in as much detail as you would on a traditional telephone or email inquiry. Likewise, this allows brands to act faster, respond smarter and anticipate customer's needs.
Salesfoce is one of the pioneers in the realm of customer relationship management (CRM) platforms. Its CRM tool integrates social media. Their tools give brands and marketers access to the same level of insight most traditional channels offer, but with the added benefit of providing you with the ability to use social tools for communicating internally. Brands and marketers can monitor, track and benchmark social media communications using familiar tools, dashboards, and metrics.
Hootsuite is another great tool with similar functions of customer engagement filtering and services. You can assign an incoming tweet right from the tweet dashboard,  and send it to the appropriate person or team right from the spot.
Some of the benefits that in Social CRM approach is as follow:
Consumer support via your consumer's social network of their like
Real-time engagement
Locate social influencers advocating for your brand
Integration of business functions with sales, marketing and customer support
Infrastructure based on the individual customer
Social CRM has obvious benefits for the sales and consumer support teams, but if you are a Social Media or Digital Marketer, you can make SCRM part of your strategic SEO or Social Plan. Not only will your client love you for it, but imagine the insights and metric benefits that you can extrapolate from it.
As with any methodology or technology, having a communications or marketing strategy plan in place helps execute offers successfully. Many companies are now using SCRM and they are doing it wrong, in that they do not have an SCRM system in place or the trained the manpower to run it. Likewise, many put automatic messages asking consumers to contact the company via email or phone, and this defeats the purpose of establishing a SCRM system . So remember, Social CRM is about putting your customer first and a method to really communicate with your customers, not just to push products at them.
Additional resources:
Total Page Visits: 11429 - Today Page Visits: 1