International SEO Tool: Table of Language & Country Names Codes | Yandex International SEO Guidelines & Webmaster Tools | list of Euro Currency Conventions for EU countries
By Maris Pozo
International SEO 101: The fundamentals to reach global search audience and to achieve successful international outreach.

International Digital Marketing (IDM) –also called International SEO.
Today, marketers responsible for domestic and international markets are realizing the power of technology for effectively reaching potential prospects and engaging current and new users from around the world. It can be overwhelming trying to determine how to start your international SEO campaign. This post lets you find out more about what exactly it is International Digital Marketing and how your website can be potentially sitting on an international goldmine.
Definitions
International digital marketing is simply the application of an umbrella term for integrated marketing methodologies, applications so a website or brand can be found in more than one or more target countries and/or languages by the search engines.
International SEO: Is the technical SEO processes and tools using digital web technologies to prepare a website for crossover into another language to reach the specific audience based on country, by region and/or by language.
Integrated International Digital Marketing also includes mobiles phones, social media networks, link building (inbound marketing), paid advertising PPC, display advertising, wearable tech, and any other digital outlets.
Culturalization and Cross-cultural Business Requirements

International Digital Marketing Culturalization Cross-cultural business requires acculturalization best practices, in that every country requires its own research and content that speaks to that target audience. A piece of content that looks great to an American audience, does not necessarily resonate with another culture. It's not about just translating a site to another language, but culturalization implementation allows your content to reflect their country norms in regards to gender roles, clothing, music, colors, modernism, slang, jokes, emotions,  religion, family,  friends values and believes, etc.
Furthermore, culturalization allows your business to target your digital data with the correct device. For example, a high percentage of internet users in Asia are already using wearable techs such as Fitbit, Google Glass, and smartwatches. Emerging markets in Indonesia and Nigeria are interested in new technology due to huge levels of necessity driven demand.
Fundamental Questions to Ask When Expanding and Reaching Global Search Audiences

Do I need a new website with a different language and a different domain (ccTDL) URL from that country? – and Where do I Start?
It can be overwhelming trying to determine how to start your international SEO campaign, but the starting point is easier than you think.
So let's break it down, assuming that you already took a look at your analytics tool and other collected data from your site and/or business and realized there is an international audience interested in your product and/or your services. Also, that you conducted an International market opportunity analysis. If you already did, then skip this section and click to begin reading the section under "Learn more about your international target market" below.
View your website analytics data
Your website is a trove of information that allows you to validate whether or not international expansion would be beneficial for your company.
To  assess your International Advantage Relative to your Competitors,  use marketing technology stack ( martech stack) tools such:

 Your Google Analytic (for location by country and city, and by language)
Alaxa (for top ranking sites)
download this International Competitor analysis Template (pdf).
Google Webmaster Tools (now, Google Console) filtering by location, to identify your initial international search visibility using the "Search Queries" report. Then find your web page impressions, clicks, and the CTR  by country.  Supplement it with the "Demographics" report in Google Analytics by obtaining data such as current international visits, conversion rate volume, trends coming from different languages, and top traffic sources, keywords, and pages.
International SEO – Google Technical Support
Google's official documentation on International SEO.
Google analytics data
In this example, Google Analytics dashboard clearly shows that the predominant language for this particular site is English– and Spanish amounts to almost nothing, so in this case targeting Spain or any Spanish speaking country does not make sense in terms of traffic.
Of course, you can always target any country by using other types of geo market research data like opportunity analyst, or SWOT analysis utilizing other tools (below), but for startups or small business, google analytics is a good place to start –if the data is already there. For example, the dashboard (table below) indicates that this particular English-speaking website's major source of traffic comes from the United States, but as well as from the UK and South Africa.

International SEO Tool: Use language and country name by code tool

The dashboard below shows geographical data based on location.  As you can see, most of the traffic comes from South Africa, even though the website is an American website located in California.

The location by the city it is not under GEO option but under Acquisition/overview/Traffic/ channels/ city filter.
Rarely, high traffic coming from south Africa is seen on a USA website, so further investigation is required. Let's take a look at this data by using the Google analytics filter by city. The dashboard shows us two cities in South Africa as being the major source of traffic for this particular site: Cape Town and Pretoria.
Fuhrer investigation tells us that these two cities (Cape Town and Pretoria) are developed tourist cities with the majority of their population composed of white English speaking people. Cape Town, for example, is a beautiful small city with magnificent views and city-like life, with boutiques, luxury hotels, bars, and restaurants.  This data indicates that there might an opportunity to do business in this region.
Note: this is just a mock example, of course, you would want to get more than 530 visits per month to your site to consider doing business in another country.
Learn more about your international target market
You want to learn about the competitive market and find opportunity gaps. Begin finding the competitive position, regional factors, country's business policies rules and regulations, and industry trends. Then figure out the competitor's strategy by digging up their annual shareholder reports, 10K reports, interviews with analysts, CEO quarterly reports, statements by managers and press releases. Conversely, check their promotional campaigns, strategy partnerships, mergers, and acquisitions.
A company's capabilities are also linked to its strengths, so conducting a SWOT analysis can provide further intelligence data. Use the free International SEO SWOT analysis below to study your international target market's  Strengths, Weakness, Opportunities, and Threats, as well as your own.
Download This free International SWOT analysis Template  I made, and fill in the blanks.

Also, download How To Identify The Current Marketing Factors (marketing mix, target market, situation analysis, what "need"does this product satisfy– includes a completed SWOT analysis sample)

Company Sample: Shop.com 
Disclosure: I'm not affiliated to shop.com  in any form, neither I'm promoting it.
International target audience segmentation
Furthermore, you want to learn your target demographics, psychographics, and segmentation of your target audience.
Check these fantastic  free market research tools below:
Google Global Market Finder
With Google Global Market Finder, you can find audiences around the world who are likely to be interested in your products, services, or business.
Simply enter keywords that describe your product or service, then select a region. You can choose specific markets or the entire world.
Language

If you are targeting a country with a language that speaks Spanish for example, you need to decide if you want to target it based on language (which will cover Spain, Latin America and Latin Americans living in the USA), or you specifically want to target Spain, for example.
Recommended: Use native speakers from that country, in this case, Spain and make sure your site is only translated into Spanish but also, translated into their language nuances. For example, do you know the word "shower" is used differently in Latin America than in Spain?
Let's use the phrase "taking a shower" in Spanish for two Spanish-speaking countries:
SPAIN:         Voy a tomar una ducha  (slang: "me voy a dar una refrescada.")

MEXICO:      Voy a Bañarme (slang: "me voy a remojar el cuerpesito.")
Let the search engines know of your translated site with hreflang tags
Now that you know which country and language you want to target, show search engines which languages your translated site is using, with hreflang or language meta tags. These are bits of code that indicate which language(s) your content is available in.
FOR USA:   <link rel="alternate" href="http://example.com" hreflang="en-us" />

FOR SPAIN    <link rel="alternate" href="http://example.com" hreflang="

es-es

" />
Do not use cookies or scripts to show your language versions in the same regional URL. Search engines can't crawl that info, and human users may not be able to see it either. Try using correct values and syntax best practices recommended by Google.
Check this WordPress plugin video on  how to easily set up an hreflang tag
After including the hreflang on your site, let google know about it by going to Google Search Console
HTML meta tag for content language
It is important to specify to the search engines which language and country you are targeting to, by using the meta tag for content language. Make sure you do it in the correct format. Some people do it like this:
<meta name="language" content="Spanish">
This isn't defined in any specification (including the HTML5 draft)
<meta http-equiv="content-language" content="es">
But it should really be expressed in the headers. For example:
Content

-

language

:

 es


Content

-

type

:

 text

/

html

;

charset

=

UTF

-

8
It says that the document is intended for Spanish language speakers (it doesn't, however, mean the document is written in Spanish; it could, for example, be written in English as part of a language course for Spanish speakers).
The Content-Language entity-header field describes the natural language(s) of the intended audience for the enclosed entity. Note that this might not be equivalent to all the languages used within the entity-body.
If you want to state that a document is written in Spanish then use:
<html

 

lang

=

"es"

>


.
 .
Domain Name: URL site structure
Let say you are in the USA, so you Country code top-level domains (ccTLD) is example.com and you want to target by country: Spain.
There are three ways to set up your international URL site structure.
Using the same example of Spain:
Country code top-level domains (ccTLD): example.es

Subdomains: es.example.com

Subdirectories: example.com/es
Note: Google interprets any top-level domain (TLD) that isn't a registered country code as a generic TLD (gTLD).
Country-code top-level domain names (ccTLDs) can be explained with red in the graphic below. The ccTLDs explain the denomination– extension– given to a domain name to differentiate the country of origin from were a domain website is from. In the United States states we normally use .com or .us, but in other countries like Spain it is .es;  for France is .fr, or Mexico it is normally .com.mx — and so on.

Do I need to buy a new Domain name with that country extension? ex. mysite.es (for Spain)

This topic is a bit controversial since Google indicates that they only look at the content, not the URL, to determine the site's region and language. In other words, the question is: Do we need to use a country-code top level domain, or instead should we just create a sub-domain within our domain?
A while back the answer was, "it doesn't matter," but if you want to take advantage of the new services search engines like Google offers such as Google Highlighter, cards, and the like, some of these services at the moment do not work for site's with multilingual sub domains or directories within one domain, so hence having a ccTLD makes sense as of 2016.
Google generally uses the following elements to determine a website's targeted country:
Country-code top-level domain names (ccTLDs). These are tied to a specific country (for example .de for Germany, .cn for China), and therefore are a strong signal to both users and search engines that your site is explicitly intended for a certain country. (Some countries have restrictions on who can use ccTLDs, so be sure to do your research first.) Google also treat some vanity ccTLDs (such as .tv, .me, etc.) as gTLDs, as Google does not have found that users and webmasters frequently see these as being more generic than country-targeted (Google  doesn't have a complete list of such vanity ccTLDs that we treat as gTLDs, because such a list would change over time). See a full list of domains Google treats as generic.
Sub-domain vs Sub-directory
IMPORTANT THINGS TO CONSIDER

Subdomains (sub.example.com) are regularly treated as a sign of a bit of separation from the main website (example.com) by the search engines. For this reason, sometimes you are better off having a sub-directory instead since this normally is taken by the search engines as part of your site, in that the existing popularity and traffic from your main site will trickle down to the blog sub-folder (also called sub-directory) example.com/espanol or example.com/es
Hosting server location
In 2014, Forbes wrote an article explaining that server location  "can have negative effects. Not only can it impact SEO results, but nobody wants to wait while your website is traveling 12,000 miles…." The Forbes author explains that it impacts your website negatively by hosting your site on a server outside your country.  In other words, the article suggests that if you are in Spain you are better off hosting with a US company, like ex. Godaddy, if you wish to target the US–and the same goes for US companies trying to target Outside USA. With all due respect to the Forbes author,  that's not entirely true.
In 2013, a Google Webmaster Help thread, Google's John Mueller said in response to the question of SEO and server location:
"For search, specifically for geotargeting, the server's location plays a very small role, in many cases it's irrelevant. If you use a ccTLD or a gTLD together with Webmaster Tools, then we'll mainly use the geotargeting from there, regardless of where your server is located. You definitely don't need to host your website in any specific geographic location — use what works best for you, and give us that information via a ccTLD or Webmaster Tools."
What about distance?
As I explained previously, Google uses ccTLD over server location; however, for user experience purposes sometimes having a server closer to the targeted geographical destination serves the user better, in that page might load faster from servers near them. We also know this based on the Google FAQs on the same topic which answers:
Q: Is the server location important for geotargeting?
A: If you can use one of the other means to set geotargeting (ccTLD or Webmaster Tools' geotargeting tool), you don't need worry about the server's location. We do, however, recommend making sure that your website is hosted in a way that will give your users fast access to it (which is often done by choosing hosting near your users).
Important to know:  I know, first hand, of websites in Europe who are hosted in Europe having amazing search results in the USA, so hosting near your targeted users still an open debate.
I raise this discussion because there are too many well-known sites with mix information about server location, and it is important to make sure we  get it right.
Our team of international experts will assist  your business in guiding you through the process of establishing an international presence in the target market of the country(s) and language(s) that would generate profit growth for your business.

For a free site audit and quote contact us infobluemediaconsulting.com or visit bluemediaconsulting.com
International search engines
There are only a handful of search engines that compete with google in the world. That is Yandex.com in Russia, Baidui in China (read: International SEO Buidu Search Engine Guide), Naver.com  in South Korea search which most popular search social media is Naver social network called CAFE.  A good thing is that Generally, you'll find that following best practices for SEO will serve you well on these search platforms since they have many similarities in terms of pay-per-click (PPC) and keyword research, with exception of some differences.  Russia Yandex,. For instance, Yandex tends not to index pages as frequently as other search engines. Static pages, for example, may be updated only once or twice a month. More dynamic, or fresh content, like news sites or blogs, are re-crawled on a daily basis.
Also, Yandex is widely focused on local and regional marketing, so if you want your business to be shown in a particular market, then you'll want to use Yandex's webmaster tools to set up a slew of regional preferences. Yandex also offers a standard set of tools and resources for search engine optimization and web marketing. This includes a robust keyword research tool, as well. You can search with Yandex analytics robust keyword research tool, and see the number of displays per month on a give term or keyword, and if you select by region, you'll be able to see how any given performs regionally.
By region, you'll be able to see how the term performs regionally.
Here, we can see that the keyword "analytics", broken down by cities. As you can see the graph below, the keyword "cars" is a much more popular term in Moscow than for the rest of the other cities and CIS Nations.

See  complete list of Yandex SEO Guidelines & Webmaster Tools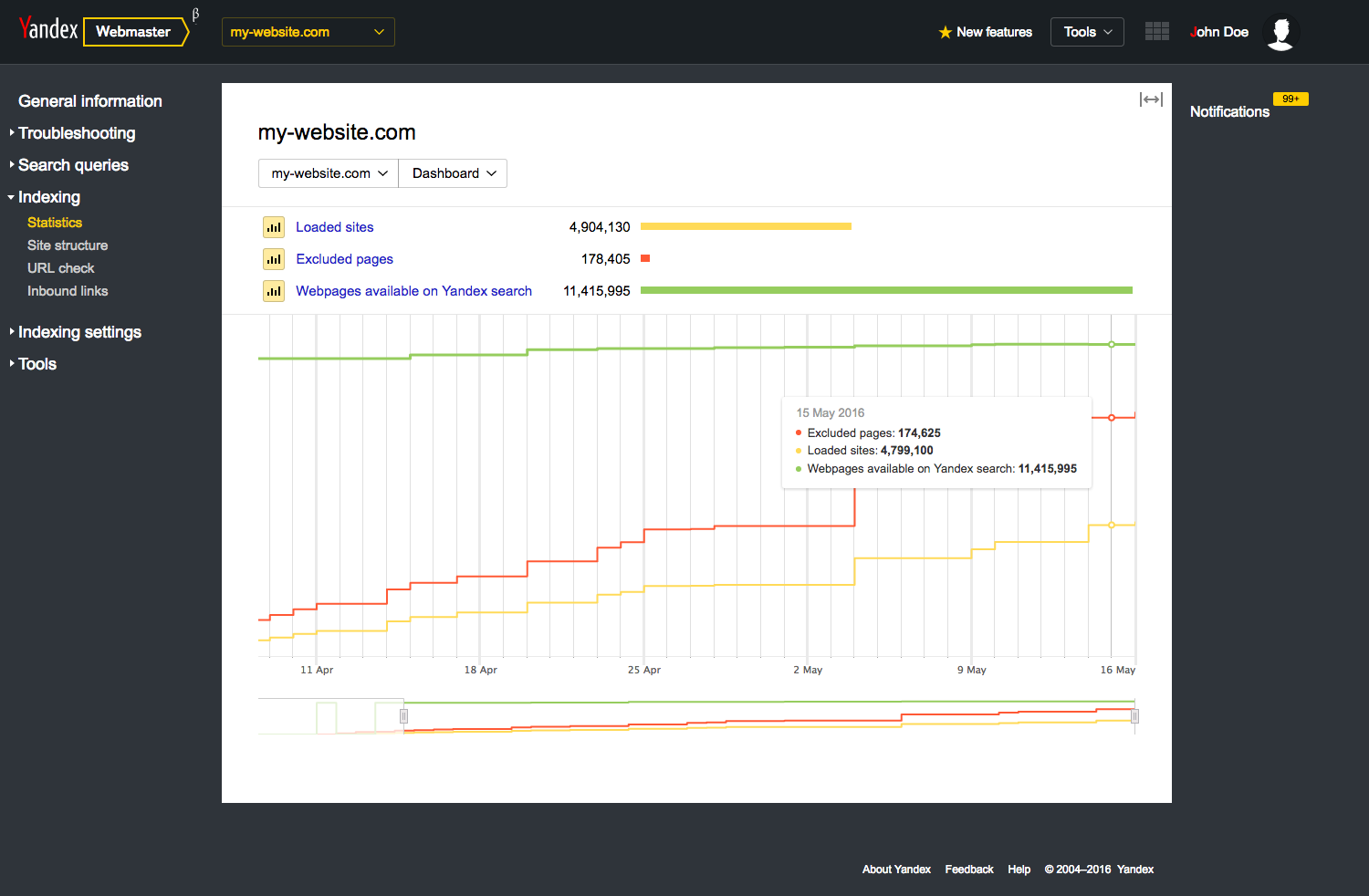 China Search Engine
To use the keyword research tool from china search engine Baidu go to http://index.baidu.com. Use Google Chrome browser's  translating popup option to read it.
In conclusion:
For a North American search marketer, in addition to your Google and Bing stack, you'll also want to consider the top search engines in all of the international areas you're targeting. Whether that's a localized flavor of Google or international search engines and portals like Baidu, Naver, Yandex, or others, you'll do well in taking advantage of these highly localized tools, analytics, and the webmasters resources they provide.
INTERNATIONAL SEO TOOLS

Target International Research Tools:
Connect Life
TNS Digital
ComeScore Data Mine
Pew Research Global Attitudes & Trends

 Targeting USA Research Tools
Nielsen Segmentation Solutions
The Hispanic Buying Power in The United States
Marketer.com Consumer markets
Multi-regional and multilingual sites
Use hreflang for language and regional URLs
Use a sitemap to indicate alternate language pages
Locale-aware crawling by Googlebot
ADVERTISING TRUST AND ACTION LEVELS ARE HIGHEST IN DEVELOPING REGIONS
Shifting focus to responses around the world, trust levels for each type of advertising format reviewed are highest in developing markets. Latin America leads the way, demonstrating the highest levels of trust for 10 of 19 advertising formats, with many of these representing traditional formats. Africa/Middle East shows the highest reported levels for seven of 19 formats, with these representing a mix of both online and offline formats. Finally, Asia-Pacific reports the highest levels of trust for three formats, including both ads on mobile devices and mobile text ads. Respondents in these regions were also more likely to say they take action on advertising formats at least some of the time.
European respondents are most skeptical about advertising, with the lowest reported levels of trust for all 19 formats. They're also least likely to say they take action on nearly all (18 of 19) advertising formats.
In North America, the results are mixed. While respondents in the region report trust levels below the global average for nine of 19 advertising formats—including, most notably, branded websites—they actually exceed the global average for nearly as many channels (eight of 19). And this is the only region where trust is consistently (and considerably) higher than self-reported action.
Total Page Visits: 34663 - Today Page Visits: 10