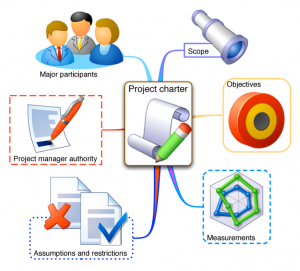 Defining the project scope is the most critical step a project manager can take. Starting a project without knowing what is to be delivered to the client and what the boundaries of the project are will probably result in a project that is over budget, behind schedule, or delivers the wrong thing.
The PMBOK Guide (5th Edition) defines the project scope as "work performed to deliver a product, service, or result with the specified features and functions" (pg. 555).
Information from the project charter, requirements documentation and other project documents is used to create the project scope documentation. There are some similarities between the project charter and project scope documentation, but they have different levels of detail. The project charter should have high-level information about the project, which the project scope statement has a more detailed description. Project Charter Project Scope Project purpose or justification Measurable project objectives and related success criteria High-level requirements High-level project description High-level risks Summary milestone schedule Summary budget Stakeholder list Project approval requirements (what constitutes success, who decides, who signs off) Assigned project manager, responsibility, and authority level Name and authority of the sponsor or other person(s) authorizing the project charter Project scope description (progressively elaborated) Acceptance criteria Project deliverables Project exclusions Project constrain.
Download a free copy of a sample of project chatter and project scope
The following two tabs change content below.
By Mary
Head of Integrated Digital Marketing and International Outreach
Maris Pozo is an Integrated Digital Marketer and member of the American Marketing Association, with over 9 years of experience on the agency side-and has worked with clients such as HP, LATimes, and Monster.com--In bilingual markets in Spain and U.S.
2436total visits.