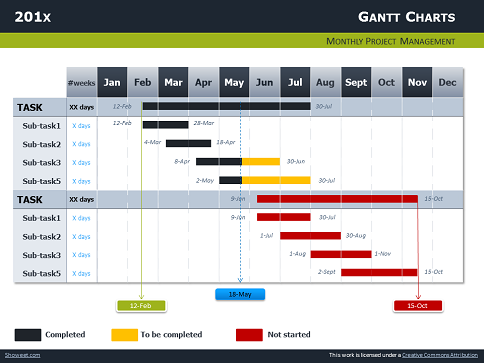 By Mary
Identifying Project Milestones
A milestone is defined by the PMBOK Guide (5th Edition) as "a significant point or event in a project" (pg. 546). Typically, milestones signal the completion of a key deliverable but they may also signify an important decision point in a project.
"A milestone should not be about doing something; it should be about having arrived somewhere. It's a place in the project that is unambiguous and clear to all in terms of what is meant when it has been achieved. Milestones, along with objectives, are an excellent way to identify misunderstandings before the project starts and eliminate those nasty surprises."
A summary of milestones identifying  key deliverables/sub-deliverables and estimated dates for their completion was listed in the project charter. You may have identified additional milestones while developing the work breakdown structure (WBS) and WBS dictionary. As you begin to develop the project time management plan, you should consolidate these milestones into a milestone list.
A project milestone should be defined as the end of a project stage and marks the completion of that phase. Milestones can be used not just to highlight that key deliverables have been delivered, but also to indicate a key decision (or key investment) point within the project. Milestones can be used in any project, be they a construction project, an agile software project (milestone does not mean waterfall), or a project to build the next generation of space shuttle.
Milestones should be:
Phrased around a specific outcome rather than a set of activities.
Measurable – some part of the milestones should be a statement of the evidence that the milestone has been reached.
Used to indicate important decision points or achievements on the way to the overall project objective.
Limited to around 10 to 15 per project — although each milestone can have small, sub-milestones that contribute to achieving it
Milestones should consist of a "statement of achievement" that describes what has been accomplished and a "acceptance criteria" that identifies the criteria that determine whether the deliverable is acceptable. Milestones are typically written in the past tense to identify them as being different from the activities for the project.
| | |
| --- | --- |
| Statement of Achievement | Acceptance Criteria |
| Draft specification completed | and signed off by the Director of Design |
| G12 processor batch testing completed | and a minimum of 99.999% passed the Acceptance Test Protocol |
| First 200 customers acquired, provided with service | and the monitoring software confirmed all transferred at least 1 megabyte of information over the network |
| Project report completed | and accepted by the client |
| Foundation installed | and passed building inspection |
| Website completed | and signed off by client |
This template (Milestone List) can be used to list the milestones for your project.
They would be written like this:
Frame set completed
Crank set assembled
Wheels assembled
Braking system installed
Shifting system installed
 Going from WBS to Milestones
In addition to referring to the list of milestones in the project charter, you should review the Work Breakdown structure (WBS) to determine if changes or additions must be made to the milestones list.
Developing the milestones list from the work breakdown structure (WBS) involves identifying the key deliverables for the project. In the example of the custom bicycle project (show to the right), the milestones would probably be identified by the deliverables at WBS Level 2. They would be written like this:
Frame set completed
Crank set assembled
Wheels assembled
Braking system installed
Shifting system installed
Notice that each of these milestones is written in the past tense and describes the deliverable or sub-deliverable.
The following two tabs change content below.
By Mary
Head of Integrated Digital Marketing and International Outreach
Maris Pozo is an Integrated Digital Marketer and member of the American Marketing Association, with over 9 years of experience on the agency side-and has worked with clients such as HP, LATimes, and Monster.com--In bilingual markets in Spain and U.S.
3148total visits.